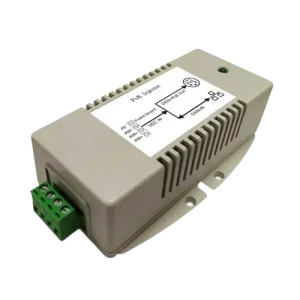 802.3bt PoE
24VDC Input 70W Output High-power PoE Injector operation temperature -40C~+70C, Compliant to 802.3bt and UPOE
Key Specifications/Special Features:
INPUT :

Input Voltage: 18Vdc to 36Vdc Normal = 24V
Input Current: 3.65A at 24Vdc @ Full Load

OUTPUT :

Output voltage and current:  +56V1
Max load: 1.25A
Power: 70W maximum
Minimum load: 0A
Load regular percentage: 5%
Line regular percentage: 1%
Ripple percentage: 1%
Noise percentage: 1%
Total power: 70W
Noise bandwidth is from DC to 20Mhz
Ripple & Noise is measured by Paralleling a 0.1uF metalize capacitor on the test point.

Efficiency:  80% min at Full Load , 18Vdc ~ 36Vdc Input Voltage
Protection:

Short Circuit Protection
Output Short GND Terminal will not damage the Power Supply and will Auto-Reset
Input with Fuse Protection.
Safety Standard : meet IEC/EN62368-1
EMC : meet FCC Class B , EN55032 Class B
Over Current : 110% ~ 130% @All DC Input F.L
Input Reverse Protection——NO Work

General description:

Operating temperature: -40 to 70 degree Celsius
Storage temperature: -40 to 85 degree Celsius
Operating humidity: 5% – 90% non-condensing
Free air cooling
SIZE : 125*72*38 (L)*(W)*(H) unit: m/m
DIN rail mountable : DIN rail clip kit optioned
RJ45 Pin Assignment: @1000M
RJ-45 PoE input (data only) and RJ-45 PoE output (data and power)

Indicates:

the LED on top cover light GREEN when Power Ready
the LEDs on right RJ45 light GREEN when powering to 802.3at PD, the left LED ON means the data pairs powering, the right LED ON means the spare pairs powering. If no valid PD be connected, the two LEDs light off.
View Specification (633 KB)