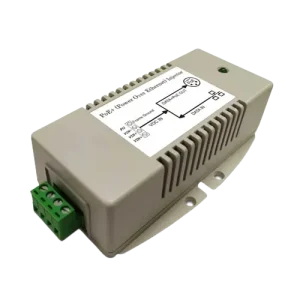 802.3at PoE
DC/DC, 802.3at Gigabit PoE Injector with 40 to 60V DC Input and 56V/0.625A Output, -40C~+70C
INPUT :
Input Voltage: 40Vdc to 60Vdc Normal = 48V
Input Current: 0.89A at 48Vdc; 1.00A at 40Vdc; 0.70A at 60Vdc
*Note: The model isolated design, both positive and negative input are all available.
OUTPUT :
Output voltage and current: +56V
Max load: 0.625A
Power: Output 35W maximum
Minimum load: 0.01A
Load regular percentage: 5%
Line regular percentage: 1%
Ripple percentage: 1%
Noise percentage: 1%
Total power: 35W
Noise bandwidth is from DC to 20Mhz.
Ripple & Noise is measured by Paralleling a 0.1uF metalize capacitor on the test point.
Efficiency : 82% min at Full Load , 18Vdc to 36Vdc Input Voltage
Protection :
Short Circuit Protection
Output Short GND Terminal will not damage the Power Supply and will Auto-Reset
Input with Fuse Protection.
Safety Standard : meet IEC 62368-1.
EMC : meet FCC Class B , EN55032 Class B
IEEE 802.3at compliant
Over Current : 120% ~ 160% @24Vdc Input F.L
Input Polarity Reverse Protection ——NO Work
Input Over Voltage Protection : 72.3V ~ 72.8V Turn-off Input Voltage.
Input Over low Voltage Protection : 33.1V ~ 33.8V Turn-off Input Voltage.
General description :
Operating temperature: -40 to 70 degree Celsius
Storage temperature: -40 to 85 degree Celsius
Operating humidity: 5% – 90% non-condensing
Free air cooling
Dimensions: 125*72*38 (L)*(W)*(H) unit: m/m
RJ-45 input (data only) and RJ-45 output (data & power)
RJ45 Connection and pin out: @100MBASE
RJ45 Connection and pin out: @1000MBASE
Plastic case material: PC
Plastic case finish: texture
Plastic case color: gray/black
Indicator:
the LED lights RED means Power Ready
the LED lights GREEN means Output 802.3af or 802.3at OK