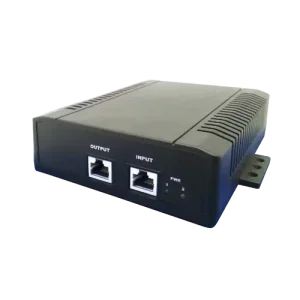 802.3bt PoE
MIT-85G-56D-BT
AC/DC, 5Gbps POE Injector with 56VDC 90W Output and 90% Efficiency, power on all 4 pairs, 802.3bt compliant
Country of Origin: Taiwan
Key Specifications/Special Features:
INPUT :
Input voltage: AC 100V ~ 240V ±10%
Input current: 0.9A at 120Vac @F.L PF > 0.98 ; 0.5A at 230Vac @F.L PF > 0.95
Input Frequency: 50 ~ 60hz
Inrush current: 25A Max at 120Vac & 50A Max at 230Vac
OUTPUT :
Output voltage and current: +56V
Max load: 1.6A
Power: 90W maximum
Minimum load 0A
Load regular percentage: 5%
Line regular percentage: 1%
Ripple percentage: 1%
Noise percentage: 2%
Total power: 90W
Ripple & Noise bandwidth is from DC to 20Mhz.
Terminated With a 47uF Capacitor and 0.1uf MPE Capacitor of Proper Polarity.
Efficiency: 90% min. at AC 120V Input @F.L ; 90% min. at AC 240V Input @F.L
Protection:
Short-circuit protected
Output Short GND Terminal will not damage the Power Supply
Auto Recover when Load status going to normally
Over Voltage Protection : 58V ~ 60V
Over Current limit: 120% ~ 150% @100V ~ 240Vac
LED Indicate SENSE – OK
EMC : Meet FCC Class A EN55032 Class A
SAFETY STANDARD : Meet EN62368-1
Hold up time :8mS min. at maximum load &120Vac Input.
General description:
Operating temperature: -40 to 70 degree Celsius
Storage temperature: -40 to 85 degree Celsius
Operating humidity: 5 to 90%
Free air cooling
Size: 140*150*40 mm (L)*(W)*(H)
RJ45 Pin Assignment: @1000M/5000M @CAT6A
RJ-45 input (data only) and RJ-45 output (data & power)
Indicator:
LED1, 2 (RED) Indicate POE Output no valid detection.
LED1, 2 (GREEN) Indicate POE Output detected.
Documents: