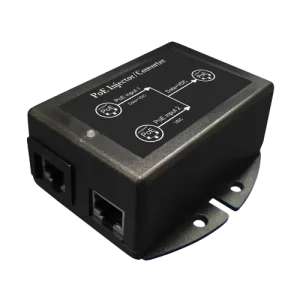 802.3bt PoE
DC/DC Gigabit PoE Injector combine 2x 802.3at PoE to 1x 70W 802.3bt compliant PoE, -40C~+70C
Brand Name: MSE
Key Specifications/Special Features
DC/DC Gigabit PoE Injector,
INPUT :

Input voltage: 40Vdc to 57Vdc Normal = 56V
Input current: 1.25A at 56Vdc @ 802.3at *2 INPUT
Input Polarity: available for both mode A (1,2/3,6) and mode B (4,5/7,8)

OUTPUT :

Output voltage and current: +56V
Max load: 1.25A
Power: 70W maximum
Minimum load: 0A
Load regular percentage: 5%
Line regular percentage: 1%
Ripple percentage: 1%
Noise percentage: 1%
Total power: 70W
Note 1, The output voltage depends on the input voltage with 2.5V voltage drop. For example, if the input is 56V, then the output is 53.5V.
Note 2, The two inputs need to come from same PoE switch, or the input voltages are the same, then the output may up to 70W.

General description:

Operation Temperature: -40 – +70 Degree
Storage Temperature: -40 – +85 Degree
Operation Humidity: 5% – 90%
Free air cooling
Size:  85*78*36 (L*W*H)m/m unit: m/m

INPUT data & Power-Connected to DTE (10/100/1000MBPS)

RJ-45 input1 (data & power), input2 (power)

Power Output & Data -Connected to DTE (10/100/1000MBPS)

RJ-45 output (data & power)

Indicator:

blink RED, display only one input. (no output)
the LED on stable light red when Power Ready
steady GREEN, two inputs available, output delivering.
View Specification (144 KB)