RADIO OVER IP GATEWAY (DIGITAL)-ROIP-300DX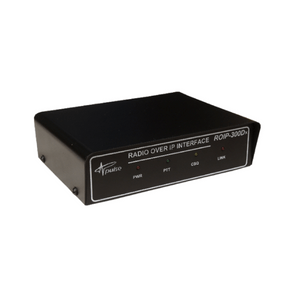 Single Port Radio Over Ip Gateway with Support for Digital DMR Radios (Mobile Base Stations only). It has support to integrate the DMR Radios Data available over USB/ RS232 Ports from Mobile Base Stations. It has only Broadband Connection Port (RJ45) for IP Connectivity. It supports ROIP Digital Server Software Editions only.
SPESIFICATIONS
NETWORK REQUIREMENT
Device Payload: 1kbps idle, 32Kbps(ADPCM)/ 64kbps(ALAW) active per user
Network Loading: Minimum 128kbps Network Bandwidth
Packet Loss: <1%
Packet Delay: <100ms (Programmable depending upon net speed)
Network Type: Fully switched Ethernet, full duplex.
GENERAL
Dimensions: 1.75 x 5.9 x 4.3 inches (H x W x D)
Weight: 360g
Operation Temperature Range: -10 to +55 Celsius
Power: 9V DC, 500mA
Network Connection: 10/100 Base-T Ethernet connection using RJ-45
RADIO SIGNALS USED
PTT
Carrier
Receive Audio
Transmit Audio
FEATURES
Wide Area Network Connectivity.
Remote PC connectivity to a known radio channel. (Optional)
Auto-Connection on link or power reset.
User Programmable IP Configuration.
Flexible Port Address Configurability.
Secured Communication by using Authentication Packets.
Connection between Static IP Network and a Static/Dynamic IP Network.
Dynamic Ip Connectivity with domain names
Web based Configuration Settings
Carrier/ Vox operated Mode (programmable).
Local Repeat Mode Feature (programmable).
Selectable CSQ or PTT priority feature.
Adjustable PTT Delay depending upon net speed.
Programmable PTT Time out Timer (TOT).
Remote Channel Change
RSSI Level Indication
DTMF Decoder (for Dialing in Server Console Configuration)
Digital Radio Support (for Server Console Configuration)
Multi-Connection Mode for Redundant Server Configuration