RADIO OVER IP GATEWAY (MUTI-CAST)-ROIP-300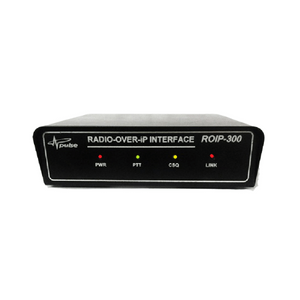 Single Port Radio Over IP Gateway with Multi-cast Support upto 7 Connections, allowing multiple ROIPs to be connected in a Mesh Topology without any central ROIP Server requirements. It can be used in both Point to Point and Multi-Point Configurations. It has only Broadband Connection Port (RJ45) for IP Connectivity. It is not supported on any ROIP Server Software Editions.
SPECIFICATIONS
Network Requirements
• Device Payload: 1kbps idle, 64kbps active per user
• Network Loading: Minimum 128kbps Network Bandwidth
• Packet Loss: <1%
• Packet Delay: <100ms (Programmable depending upon net speed)
• Network Type: Fully switched Ethernet, full duplex.
General
• Dimensions: 1.75 x 5.9 x 4.3 inches (H x W x D)
• Weight: 360g
• Operation Temperature Range: -10 to +55 Celsius
• Power: 9V DC, 500mA
• Network Connection: 10/100 Base-T Ethernet connection using RJ-45
Radio Signals Used
• PTT
• Carrier
• Receive Audio
• Transmit Audio
OTHER FEATURES/ APPLICATIONS
• Wide Area Network Connectivity.
• Remote PC connectivity to a known radio channel. (Optional)
• Auto-Connection on link or power reset.
• User Programmable IP Configuration.
• Flexible Port Address Configurability.
• Secured Communication by using Authentication Packets.
• Connection between Static IP Network and a Static/Dynamic IP Network.
• DHCP Client Feature
• Web based Configuration Settings
• Carrier/ Vox operated Mode (programmable).
• Local Repeat Mode Feature (programmable).
• Selectable CSQ or PTT priority feature.
• Adjustable PTT Delay depending upon net speed.
• Programmable PTT Time out Timer (TOT).