RADIO OVER IP GATEWAY (SIP PROTOCOL)-ROIP-300S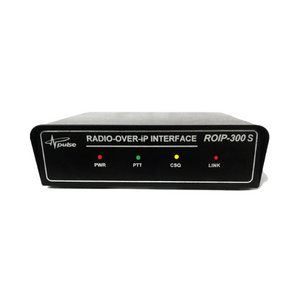 Single Port Radio Over IP Gateway which works on Open SIP Protocol and supports connectivity to existing VOIP Phones/ Gateway/ SIP Server/ IP-PBX/ Soft Phones. It has inbuilt DTMF Decoder which enables Outgoing Dialling from Radio Dtmf Keypad to any SIP User. Apart from basic features similar to a SIP Phone, it also has a phonebook for speed dialing on predefined sip contacts. Incoming SIP Calls are automatically picked up by the ROIP Gateway and is patched with the Radio. It has only Broadband Connection Port (RJ45) for IP Connectivity. It is not supported on any ROIP Server Software Editions.
SPECIFICATIONS
Network Requirements
• Device Payload: 1kbps idle, 64kbps active per user
• Network Loading: Minimum 128kbps Network Bandwidth
• Packet Loss: <1%
• Packet Delay: <100ms (Programmable depending upon net speed)
• Network Type: Fully switched Ethernet, full duplex.
• Protocol: SIP, RTP
• Audio: G711 Codec
General
• Dimensions: 1.75 x 5.9 x 4.3 inches (H x W x D)
• Weight: 360g
• Operation Temperature Range: -10 to +55 Celsius
• Power: 9V DC, 500mA
• Network Connection: 10/100 Base-T Ethernet connection using RJ-45
Radio Signals Used
• PTT
• Carrier
• Receive Audio
• Transmit Audio
OTHER FEATURES/ APPLICATIONS
• Wide Area Network Connectivity.
• Auto-Connection on link or power reset.
• User Programmable IP Configuration.
• DHCP Client Feature
• Web based Configuration Settings
• Carrier/ Vox operated Mode (programmable).
• Local Repeat Mode Feature (programmable).
• Selectable CSQ or PTT priority feature.
• Adjustable PTT Delay depending upon net speed.
• Programmable PTT Time out Timer (TOT).
• DTMF Call Dialing
• Auto Call Receive
• SIP Phone Book Speed Dial upto 10 Numbers.